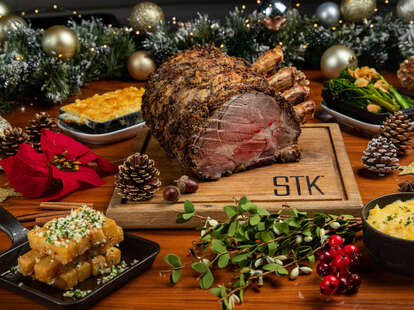 STK Steakhouse

| Photo courtesy of Caren West PR
STK Steakhouse

| Photo courtesy of Caren West PR
Celebrating the simplicity of a great steak by removing all those showy "vowels," STK boasts a porterhouse and a cowboy ribeye that'll fill you up, and a black truffle aioli tartare that should every meal. The restaurant is advertised as a steakhouse "for the stiletto set," though, so you'll also get the choice of plenty of salads, small plates, and three sizes of steaks, all served in a chic, glossy space.
Monday
11:00 AM - 10:30 PM
Sunday
11:00 AM - 10:30 PM
Tuesday
11:00 AM - 11:00 PM
Wednesday
11:00 AM - 11:00 PM
Thursday
11:00 AM - 11:00 PM
Friday
11:00 AM - 11:30 PM
Saturday
11:00 AM - 11:30 PM
On both Christmas Eve and Christmas Day, STK will be treating guests to chef-driven, Christmas-inspired specials. Atlantans will have the opportunity to enjoy a traditional Christmas dinner in person for $75, and they'll also be able to order the seafood and steakhouse's roasted prime rib package for two. Priced at $139, the take-out package will include a side of fresh green beans, confit fingerling potatoes, and port wine shallots topped with a truffle-Madeira sauce. Essentially, you can't go wrong with dining in or ordering takeout from STK this holiday season.
How to order: For details or to make a reservation, go online  or call  404-793-0144. Place a takeout order here.
Monday
11:00 AM - 10:30 PM
Sunday
11:00 AM - 10:30 PM
Tuesday
11:00 AM - 11:00 PM
Wednesday
11:00 AM - 11:00 PM
Thursday
11:00 AM - 11:00 PM
Friday
11:00 AM - 11:30 PM
Saturday
11:00 AM - 11:30 PM