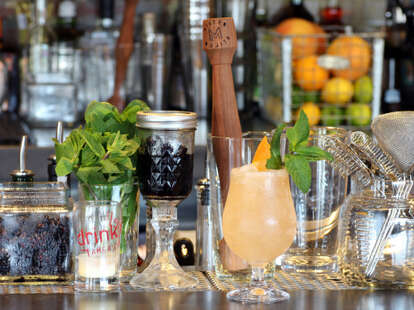 This American gastropub specializes in craft cocktails with fresh ingredients, boasting more than 75 different whiskeys and a whole section of the menu devoted to tiki cocktails. Though imbibing is the main event here, the food does not suffer because of it. You'll want to check out the homemade twinkies that change flavors weekly.
Tuesday
4:00 PM - 11:00 PM
Wednesday
4:00 PM - 11:00 PM
Thursday
4:00 PM - 11:00 PM
Saturday
12:00 PM - 12:00 AM
Sunday
12:00 PM - 11:00 PM
We all have that knowledgeable friend who knows their Angostura from their Peychaud's—the type that, should you grab one sub-par happy hour Margarita with, you'll never live it down. Enter award-winning cocktail bar, DrinkWell, where the extensive and creative cocktail menu will not only satisfy your pickiest buddy, but will have you coming back for second (and third) drinks time and time again. Located in the underrated North Loop district, the drinks here may be high-echelon, but the vibe is decidedly neighborly—its small space (only 37 seats and a smattering of spots at the bar) make DrinkWell feel intimate yet friendly. While they always stock a collection of classics like Old Fashioneds and Gimlets, the house drink menu is constantly updated based on what emerges from their mixologists' amazing minds. One mainstay throughout the seasons is the exceptional Half Moon Bay, made with Suntory Toki Whisky, Amaro Montenegro, coconut, rhubarb, lemon, and sea salt. Think of it as a Whisky Sour-plus, with complex, bright flavors that will help you start your evening off right.
How to book: Stop by for first come, first served seating.
Tuesday
4:00 PM - 11:00 PM
Wednesday
4:00 PM - 11:00 PM
Thursday
4:00 PM - 11:00 PM
Saturday
12:00 PM - 12:00 AM
Sunday
12:00 PM - 11:00 PM