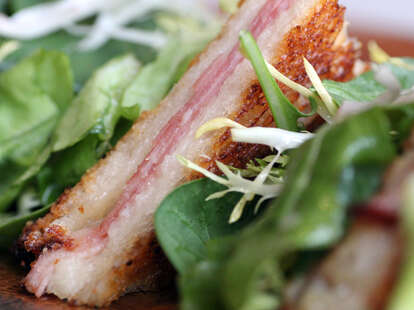 Enjoy Provencal-style cuisine at Bistro du Midi, including delectably melty grilled cheeses, seasonal oysters, duck, and lamb.
Monday
11:30 AM - 10:00 PM
Tuesday
11:30 AM - 10:00 PM
Wednesday
11:30 AM - 10:00 PM
Thursday
11:30 AM - 11:00 PM
Friday
11:30 AM - 11:00 PM
Saturday
11:00 AM - 11:00 PM
Sunday
11:00 AM - 10:00 PM
For a classic Francophile brunch spread, look no further than Bistro du Midi. Moules Frites, Croque Monsieurs, and other traditional picks make up the bulk of the menu, but other must-trys include the Prosciutto Benedict with a lemon-chive hollandaise sauce and Duck Confit "Foieffles" (aka Belgian waffles) served with duck confit and corn purée. You might want to spring for a champagne cocktail, but on the other hand, the bouillabaisse Bloody Mary with seared prawn is a worthy order.
Honestly, the French do everything better, especially romance. So don your most Euro-centric evening wear and lean into the sexy vibes. Upstairs, the roaring fireplace, white table linens, and stunning views set the tone, while the bistro space downstairs is enchanting in its own right. Either way, you're starting with a couple of Champagne cocktails then diving into a French- and New England-influenced menu spanning foie gras terrine, moules frites, filet mignon, and chocolate souffle.
Monday
11:30 AM - 10:00 PM
Tuesday
11:30 AM - 10:00 PM
Wednesday
11:30 AM - 10:00 PM
Thursday
11:30 AM - 11:00 PM
Friday
11:30 AM - 11:00 PM
Saturday
11:00 AM - 11:00 PM
Sunday
11:00 AM - 10:00 PM