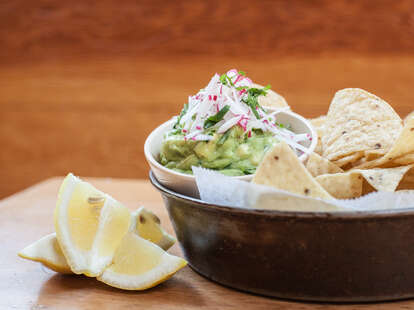 Tuesday
11:30 AM - 2:00 AM
Wednesday
11:30 AM - 2:00 AM
Thursday
11:30 AM - 2:00 AM
Saturday
11:30 AM - 3:00 AM
When this late-night honky-tonk first came to Wicker Park, diehards immediately flocked to the space for bourbon, beer, and dynamite tacos. So when the team announced a second location in Wrigleyville, folks were almost as excited as when the Cubs took the 2016 World Series (almost). The food menu is curated by executive chef Paul Kahan (of icons likeThe Publican and avec) alongsideculinary directorChris Miller, and their Queso Fundido and Pork Belly Tacos are must-trys.
How to book: Reserve via Tock or order takeout and delivery via Toast.
One of Chicago's most iconic outdoor dining destinations continues to do what it does best as we gladly resume our normal positions in the sun with a couple of tacos and a huge pitcher of Margaritas in front of us. Both the OG Wicker Park and sprawling Wrigleyville locations are summertime staples, where you can get your Al Pastor fix set to the musical stylings of a monthly DJ night set.
How to book: Reserve via Tock.
Tuesday
11:30 AM - 2:00 AM
Wednesday
11:30 AM - 2:00 AM
Thursday
11:30 AM - 2:00 AM
Saturday
11:30 AM - 3:00 AM