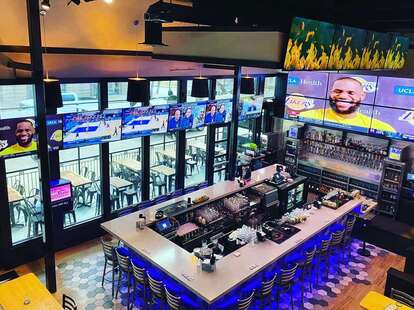 Photo courtesy of Christies
This family-owned, family-run space has been an Uptown Arts District staple since opening its doors in 1991. They aren't light on entertainment, with a Big Buck Hunter arcade, tournament-sized pool tables, and oh just 43 televisions -- 39 flat screens, and four 10ft screens. Head there for March Madness April 5th-7th. Just because your bracket's busted doesn't mean you can't enjoy watching (remotely) the first Final Four at Jerry World.
Tuesday
11:00 AM - 2:00 AM
Wednesday
11:00 AM - 2:00 AM
Thursday
11:00 AM - 2:00 AM
Saturday
11:00 AM - 2:00 AM
It's been more than a full calendar year since Christies decamped from Uptown to Lower Greenville, and the bar has hit its stride with charcuterie boards, flatbreads, burgers, and plenty of cold drinks. It helps that there's always a game blasting from the many large TVs. On Super Bowl Sunday, you can expect that won't change one bit.
This Dallas institution has been serving up sports, beer, and burgers since 1991. It's still doing all those things, except now from new digs on Greenville Avenue instead of the old Uptown location. The burgers and beers remain, but this new iteration gives you two stories of space to roam plus a rooftop deck. Throughout the bar you'll find enough TVs to hold your attention during the week's biggest games.
Tuesday
11:00 AM - 2:00 AM
Wednesday
11:00 AM - 2:00 AM
Thursday
11:00 AM - 2:00 AM
Saturday
11:00 AM - 2:00 AM