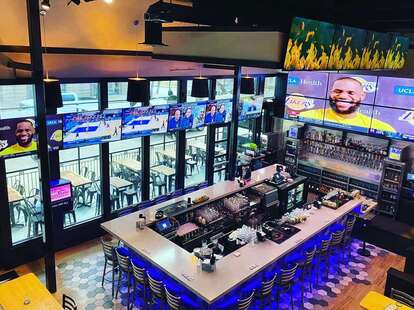 Photo courtesy of Christies
This family-owned, family-run space has been an Uptown Arts District staple since opening its doors in 1991. They aren't light on entertainment, with a Big Buck Hunter arcade, tournament-sized pool tables, and oh just 43 televisions -- 39 flat screens, and four 10ft screens. Head there for March Madness April 5th-7th. Just because your bracket's busted doesn't mean you can't enjoy watching (remotely) the first Final Four at Jerry World.
Tuesday
11:00 AM - 2:00 AM
Wednesday
11:00 AM - 2:00 AM
Thursday
11:00 AM - 2:00 AM
Saturday
11:00 AM - 2:00 AM
With TVs above the bar, lining the walls, and tucked into every corner, you won't miss a single minute of the Super Bowl action at Christie's. Well, maybe you will if you're face down in a charcuterie board or if your view is obstructed by a flatbread or burger. But such things cannot be avoided and should, in fact, be celebrated with another pitcher of beer.
Christie's is a Dallas institution that established deep roots in Uptown before decamping to Greenville Avenue for a two-story space with a rooftop deck. The digs may be different, but the beers and sports remain. Stop in to watch a game, and you'll find TVs everywhere you look, from flat-screens above the bar to a couple multi-screen video walls. The wings, burgers, and flatbreads will treat you right, and the menu also extends to less expected fare, like steak frites, chicken parm, and a solid charcuterie board.
Tuesday
11:00 AM - 2:00 AM
Wednesday
11:00 AM - 2:00 AM
Thursday
11:00 AM - 2:00 AM
Saturday
11:00 AM - 2:00 AM