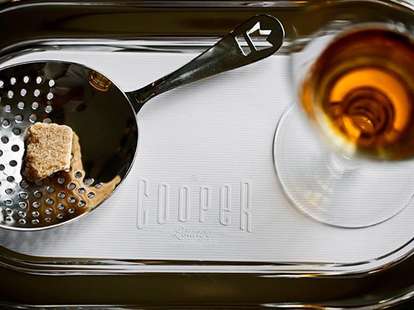 Nested above the Terminal Bar you'll find The Cooper Lounge, a high-end cocktail bar with deep armchairs and strong drinks. They put out a sleek, '30s lounge-vibe paired with an array of original cocktails that feature local spirits from Leopold Brothers, Breckenridge Bourbon, and Peach St. For example, try the Palisaide Sour with Peach St. Pear Eau de Vie, egg white, lemon, and black walnut bitters.
Tuesday
4:00 PM - 12:00 AM
Wednesday
4:00 PM - 12:00 AM
Thursday
4:00 PM - 12:00 AM
Saturday
12:00 PM - 12:00 AM
Sunday
12:00 PM - 12:00 AM
In 2014, Denver's historic Union Station got a major makeover, transforming the space from a quiet, forgotten corner of Downtown into one of the most popular destinations for dining and shopping. Though many have already discovered this elegant spot to grab a drink, its upstairs location keeps much of the typical Union Station crowds away.
How to get in: Look for the Cooper Lounge desk on the South side of the main floor of Union Station's Great Hall (near Amtrak). If there's space, you'll be escorted past a velvet rope to the lounge upstairs.
Tuesday
4:00 PM - 12:00 AM
Wednesday
4:00 PM - 12:00 AM
Thursday
4:00 PM - 12:00 AM
Saturday
12:00 PM - 12:00 AM
Sunday
12:00 PM - 12:00 AM