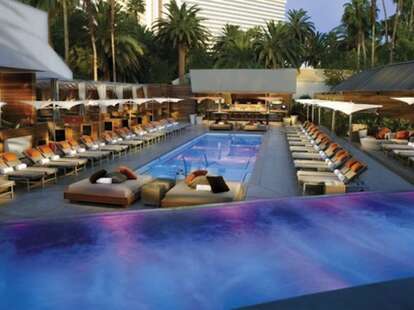 Bare Pool Lounge is an ideal Vegas spot to cool down and enjoy a few cocktails. This 14000sqft haven is complete with cabanas, daybeds, and a pair of luxury pools.
Tuesday
11:00 AM - 6:00 PM
Wednesday
11:00 AM - 6:00 PM
Thursday
11:00 AM - 6:00 PM
Saturday
11:00 AM - 6:00 PM
Sorry. Bare is no longer topless. However, the intimate pool deck remains 21-and-over with live DJs and pop-up parties planned throughout the summer. It's an easy layout, with chairs and cabanas surrounding a rectangular pool with a revealing see-thru wall offering a glimpse of what's going on below the surface of the water. Bare is surrounded by palm trees, which add a tropical feel and welcome seclusion from the rest of the sprawling pool complex at the Mirage. Order breakfast bites, vegan tacos, boozy slushies, and other treats from the Paradise Cafe.
How to book:Book a reservation online.
Tuesday
11:00 AM - 6:00 PM
Wednesday
11:00 AM - 6:00 PM
Thursday
11:00 AM - 6:00 PM
Saturday
11:00 AM - 6:00 PM