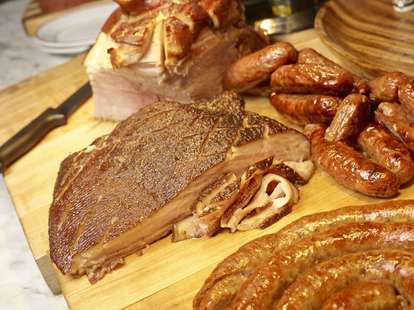 This Italian eatery serves up all the classic boot foods (chicken Parm, garlic bread, etc) but also creative twists, like their carbonara mac & cheese with fontina, peas, and pancetta. Ever had Italian brunch? The correct answer is yes, because that means chowing down on bites like their salumi board, maple-glazed ham, and spicy Italian sausage all cooked up into delish breakfast dishes.
Monday
11:30 AM - 10:00 PM
Tuesday
11:30 AM - 10:00 PM
Wednesday
11:30 AM - 10:00 PM
Thursday
11:30 AM - 10:00 PM
Sunday
11:30 AM - 10:00 PM
Friday
11:30 AM - 11:00 PM
Saturday
11:30 AM - 11:00 PM
New Jersey? Fuhgeddaboudit. Buddy Valastro chose Las Vegas to be the home of his very first restaurant, and it has quietly lived up to the hype, with a diverse menu that includes a hearty bone-in Milanese veal chop and some fantastic meatballs, crafted with beef, pork, and veal. Of course, a dessert from the "Cake Boss" is required. If you don't have room for a zeppole, cannoli, or lobster tail after dinner, pick one up to-go from Carlo's Bakery across the hall, one of the best bakeries in Las Vegas.
How to book: Make a reservation via Seven Rooms.
Monday
11:30 AM - 10:00 PM
Tuesday
11:30 AM - 10:00 PM
Wednesday
11:30 AM - 10:00 PM
Thursday
11:30 AM - 10:00 PM
Sunday
11:30 AM - 10:00 PM
Friday
11:30 AM - 11:00 PM
Saturday
11:30 AM - 11:00 PM