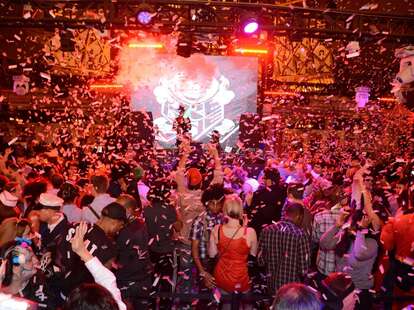 Chateau Nightclub & Rooftop
A nightlife triple-threat, Chateau gives you the option to dance the night away in its club, take the party outdoors to its second-story terrace, or head to its Versailles-style, open-air rooftop gardens nestled under the Paris Casino's replica of the Eiffel Tower. Who can refuse panoramic views of the Strip from a VIP cabana? On the dance floor, you'll be getting down to Top 40 hits that keep Chateau's frequent bachelorette parties happy. Oh, and Shaq has played a DJ set here. More than once. Yes, Shaq, as in Shaquille O'Neal.
Wednesday
10:30 PM - 4:00 AM
Saturday
10:30 PM - 4:00 AM
Chateau has refined its format in recent years. The venue is more of a late-night lounge than a nightclub these days with doors opening at 10 pm Fridays and Saturdays. You've still got a solid lineup of local DJs, but the crowded dance-floor and entrance fee are gone. Beverage minimums are required with a reservation, which starts at $150 per person. (Don't worry. This is Vegas. You'll drink your way through that in no time.) The outdoor deck is full of charm and character, sitting directly underneath the Paris resort's half-size Eiffel Tower replica with bistro lighting, lattice panels, and unobstructed views of the Bellagio fountains.
How to book: Call 702-776-7777 or book online for table reservations.
After its indoor space was annexed for Beer Park's indoor expansion, Chateau is now strictly a rooftop party spot. That's not a bad thing. The club's strength was always its outdoor patio, which sits underneath the Paris casino's half-size Eiffel Tower replica and overlooks the Bellagio fountains across the street. Hang out among string lights and French-inspired lattice decor with a vodka cranberry or work up a sweat dancing in the open air. (Hey, it's a dry heat here in Vegas.) Chateau doesn't invest in big-name DJs, but the vibe is a lot more loose and less intimidating than what you might come across at larger clubs.
How to book: Make a reservation online with the price exchanged for an equal amount of beverage credit.
Wednesday
10:30 PM - 4:00 AM
Saturday
10:30 PM - 4:00 AM