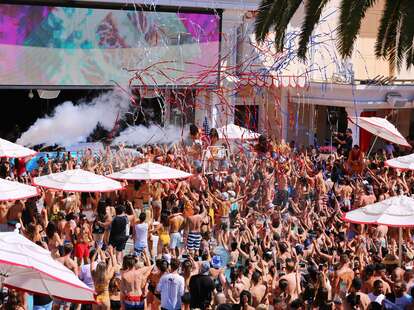 Photo by Danny Mahoney, courtesy of Encore Beach Club
Photo by Danny Mahoney, courtesy of Encore Beach Club
Because they care, Encore will tailor a bash specifically for you, starting at just $45/man, and spice-up-able with stays at the hotel, daybed/cabana reservations at Encore Beach, meals at their array of eateries, and VIP treatment at superclub Surrender,
Saturday
11:00 AM - 6:00 PM
The expansive 60,000-square-foot deck at Encore Beach Club offers something unusual in Vegas: a pool with space and room to breathe. Things are picking back up this season with the return of headliners like the Chainsmokers, Marshmello, Kygo, Diplo, and David Guetta – plus a new residency by Tyga. The Wynn kitchen team does a great job putting together an elevated poolside food menu with vegan options well represented. The action carries over to late evening hours for regular NightSwim events. Think of it as a way to go nightclubbing without dressing fancy. Try your hand at the poolside blackjack tables and win back some of that front door admission charge.
How to book: Buy general admission tickets or VIP tables and cabanas online.
Day, night, doesn't matter. Encore Beach Club is a poolside party with the most consistent after-dark events during the warmer months of the year. Having 55,000-square-feet of space doesn't hurt either. EBC has a small indoor area, but it's really about the expansive pool deck and towering palm trees. There are enough cabanas, bars, and even a few blackjack tables to keep things interesting. Browse the champagne shower menu, order a caviar push pop, and inject yourself with IV nutrient therapy for a complete beginning-middle-and-end experience. The club shares most of its headliners with sister venue XS, including the Chainsmokers, Marshmello, David Guetta, and Kygo.
How to book: Head online to buy tickets or reserve VIP tables and cabanas.
Saturday
11:00 AM - 6:00 PM