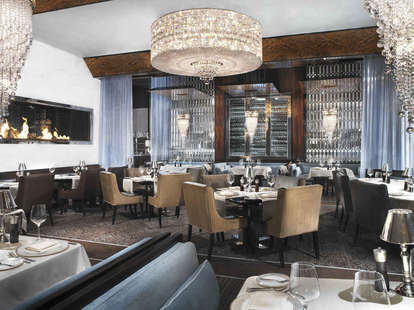 Hank's Fine Steaks & Martinis
Set inside of the Green Valley Ranch Hotel, Hank's Fine Steaks is just 10 minutes off the Strip and one of Vegas's best steakhouses. The award-winning restaurant has a classic steakhouse menu with a wide selection of wet- and dry-aged cuts ranging from the 8oz filet mignon to a 42oz T-Bone (for sharing, of course), but their signature dish is the decadent Chateuabriand steak with seasonal vegetables. The atmosphere inside is sleek and elegant, with soft lighting, modern booths, and a long bar. Hank's is also known for their martinis and their happy hours, which make them a real favorite of the locals.
Tuesday
5:00 PM - 10:00 PM
Wednesday
5:00 PM - 10:00 PM
Thursday
5:00 PM - 10:00 PM
Saturday
5:00 PM - 11:00 PM
Hank's is the only steakhouse in Henderson to serve certified Kobe beef. Ask for it as part of a smoky carpaccio or seared at low temperatures by the ounce with a choice of optional seasonings on the side. However, a 28-day bone-in Chicago ribeye could be more your speed if you're looking to pay less and eat more. The restaurant also pays close attention to the sourcing of seafood, especially the robust Hokkaido scallops. The deep lineup of martinis is popular with locals—and half-off during the daily happy hour in the bar (4-7 pm).
How to book: Make a reservation online.
Henderson's best steakhouse has a Thanksgiving meal that includes free-range Diestel Farms turkey (white and dark meat), truffle brioche stuffing, potato puree, sauteed green beans, and cranberry sauce. Add on roasted pumpkin soup or a pumpkin torte with brown butter ice cream and butterscotch sauce. Hank's also has an expanded jumbo-sized to-go meal that feeds ten people.
Cost: Turkey dinner $59, soup $21, and pumpkin torte $10. To-go feast is $250.
How to book: Call 702-617-7075 to book a reservation or place a to-go order.
Tuesday
5:00 PM - 10:00 PM
Wednesday
5:00 PM - 10:00 PM
Thursday
5:00 PM - 10:00 PM
Saturday
5:00 PM - 11:00 PM