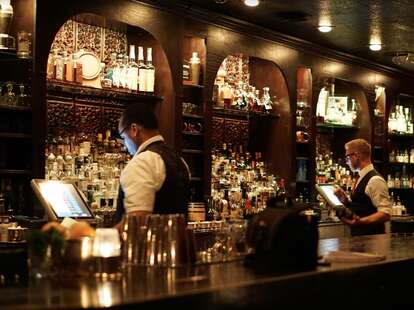 This steak-and-cocktails focused restaurant is a sophisticated and romantic spot that attracts both liquor nerds and happy hour hounds. Cocktail lovers gravitate towards the lengthy drinks menu, which reads like a timeline of mixology's greatest hits, from the "Original Collins" of the Gothic Age (1776-1865) through the "Harvey Wallbanger" of the Rat Pack Era (1950-1968) and the bartender's choice of the modern revival (1995-present). Others love this place for their half-off steaks promotion during happy hour, which runs both in the afternoon and late night. The dark, leather-covered furniture and vintage wooden furnishings make this place an inviting throwback to the alluring atmosphere of old Vegas, so it's popularity is unsurprising—make reservations.
Wednesday
5:00 PM - 3:00 AM
Thursday
5:00 PM - 3:00 AM
Saturday
5:00 PM - 3:00 AM
The term "craft cocktail" is tossed around a little too freely these days, but few bars take the art of preparing the perfect drink as seriously as Herbs & Rye. The standalone building east of the Strip has long been known as an industry clubhouse; a place where bartenders from other establishments say they like to go on their downtime. With dark decor and a heavy oak bartop, the place is comfortable but commands attention. The menu itself is a virtual textbook on the history of booze, breaking down cocktails by eras like Prohibition, Tiki, and Rat Pack. Everything is prepared with care and authenticity, often with spirits not easily found in other bars. The food isn't bad either, and steaks are half-off during happy hour, which has been extended throughout the evening since the early days of the pandemic.
How to get in: Doors open at 5 pm. Feel free to make a reservation.
Extremely popular with the service industry crowd, Herbs & Rye truly stands out from the pack with a team that's mastered the art of handcrafting a drink. There are 45 cocktails on the menu, representing different eras through history, but the bartenders welcome challenging requests and have 500 spirits on hand to play with, including some that are extremely hard to find. There's a personal touch here, too: the belief mixology isn't only about the drink, but also how a bartender mixes with his customer. The happy hour is the best in Vegas (with half-off steaks to go with deals on drinks). Sister restaurant Cleaver is one of the best steakhouses in Vegas and has a similar, but smaller cocktail menu.
Wednesday
5:00 PM - 3:00 AM
Thursday
5:00 PM - 3:00 AM
Saturday
5:00 PM - 3:00 AM