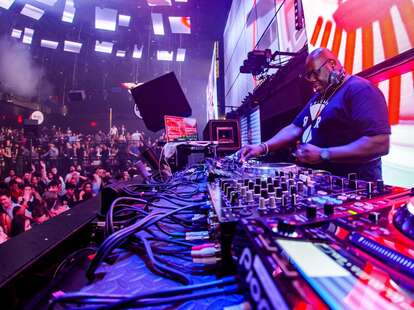 Inspired by Cirque Du Soleil, Light offers a similarly creative and experimental take on Strip entertainment: smoke and mirrors, people hanging from ropes, and DJ sets from Skrillex are just the beginning at this laboratory of Vegas nightlife. A massive floor-to-ceiling LED screen behind the DJ booth stimulates your senses, and a mix of EDM and hip-hop gets you moving on the dance floor. When it comes to performers, house favorites range from Disclosure, Morgan Page, and Baauer (the guy responsible for the "Harlem Shake") to rap and R&B acts like Tyga and Nas.
Light was the last major nightclub to reopen after the pandemic shutdown and continues to take things slow and steady on Friday and Saturday nights. The DJs aren't major names, but cover the right mix of EDM, house, top-40, and yes, even some rock here and there. Yet the biggest attraction here is the large video wall behind the DJ booth, which is in clear view of the club's staggered levels. Overall, Light has a dark, futuristic, industrial feel with everyone pretty much facing the same direction.
How to book: Contact Light online to book a table or browse the event calendar to score general admission tickets.