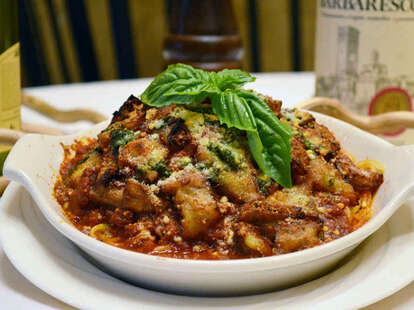 Even though it only had twelve seats when it opened, Nora's quickly became a popular local spot. Since then, they've expanded the dining space and kept up their impressive cocktail program.
Monday
11:00 AM - 10:00 PM
Tuesday
11:00 AM - 10:00 PM
Wednesday
11:00 AM - 10:00 PM
Thursday
11:00 AM - 10:00 PM
Friday
11:00 AM - 11:00 PM
Saturday
4:00 PM - 11:00 PM
Originally just 12 seats when it opened back in 1991, this longtime locals' favorite has expanded in dramatic fashion to a two-story location just west of the Strip on Flamingo Road. The menu has grown over the years as well, with more than 70 dishes in play—many taking inspiration from the owners' Sicilian lineage—with a reputation for large portions and reasonable prices. Favorites include the wild boar pappardelle and a lineup of 11 pizzas (four of which are "white" without tomato sauce). The cocktail program gets plenty of attention, but you'll also find some rewarding picks on the wine menu.
How to book: Call 702-873-8990 to make a reservation or order online.
Monday
11:00 AM - 10:00 PM
Tuesday
11:00 AM - 10:00 PM
Wednesday
11:00 AM - 10:00 PM
Thursday
11:00 AM - 10:00 PM
Friday
11:00 AM - 11:00 PM
Saturday
4:00 PM - 11:00 PM