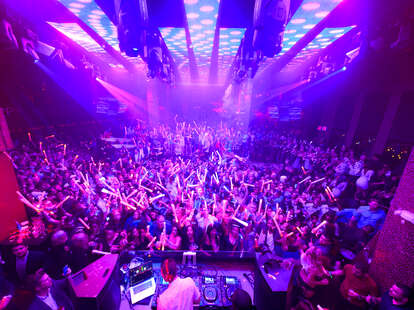 Tao Nightclub & Asian Bistro
Tao Nightclub & Asian Bistro
Located in the Grand Canal Shoppes at The Venetian, this Asian bistro meets nightlife hotspot is a staple on the Strip, offering -- perhaps unexpectedly -- excellent Chinese, Japanese, and Thai small plates in its extravagant restaurant downstairs (and we mean "extravagant" -- bathtubs full of rose petals line the entranceway and a giant Buddha statue supervises your dinner) and a rotating lineup of DJs in its multi-room nightclub upstairs. You'll feel like a celebrity (and possibly bump into some) as you bounce from one swanky room to the next, getting down to top-40 hits and, on certain nights, special acts that have included Snoop Dogg.
Thursday
5:30 PM - 11:00 PM
Saturday
5:30 PM - 11:30 PM
With a pool upstairs and an Asian restaurant downstairs, Tao tends to stay busy and is one of the more versatile clubs on the Strip. Bathtubs filled with rose petals line the entranceway, and while the outdoor balcony could be a little bit bigger, it still gives you a chance to escape the chaos and grab some fresh air while overlooking Las Vegas Boulevard. The club is divided into different rooms with DJs mixing up formats alongside dark stone and dramatic Asian decor, as well as dancers performing in enclosed cases. Yes, Vegas can still get away with that kind of stuff. Count Eric D-Lux, DJ Five, Angie Vee, and Crespo among the regulars in the DJ booth. Worship Thursdays has long been one of the most popular industry nights on the Strip.
How to book: Buy tickets or book a table online.
Thursday
5:30 PM - 11:00 PM
Saturday
5:30 PM - 11:30 PM