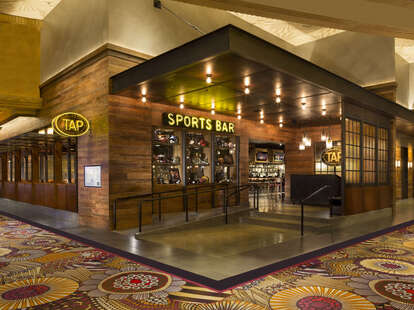 The MGM Grand's sports bar, TAP, is loaded with high-def TVs and '80s hair metal cranking over the sound system. There's beer and wine (yes, wine) on tap… but it's the desserts that will catch your eye, like their fried s'mores.
Monday
11:00 AM - 11:00 PM
Tuesday
11:00 AM - 11:00 PM
Wednesday
11:00 AM - 11:00 PM
Thursday
11:00 AM - 12:00 AM
Friday
11:00 AM - 12:00 AM
Saturday
9:00 AM - 12:00 AM
Tap is one of the better sports bars in Vegas, covered with walls of memorabilia that include championship belts, signed baseballs, and more. Whether you're watching the Golden Knights or the Raiders on one of 60 high-def TV screens, make sure to order the Captain Burger, named after the Captain Morgan rum used in the BBQ sauce. The all-beef patty comes on a brioche bun, topped with bacon, cheddar, fried onions, lettuce, tomato, and pickles with fries on the side. The burger is just $20, but you can make it a double with just three bucks more.
How to order: Book a reservation online.
If you need a sports bar to feel like an attraction, Tap is your place. The walls are decorated with memorabilia, from boxing gloves used in championship fights to hockey sticks used in the Stanley Cup Finals, plus football helmets and UFC championship belts. The beer selection is heavy on local with seasonal brews on tap, and the kitchen turns out fun stuff like beer-battered cheese curds, Nashville Hot Chicken sandwiches, and fried ice cream. A "patio" on the casino floor has outdoor lights and games like giant Connect Four. The bar is also a quick walk from the MGM Grand sports book, allowing you to place a bet without losing your table (hopefully).
How to book: Book a table online or call 702-891-7239 to place a reservation.
Monday
11:00 AM - 11:00 PM
Tuesday
11:00 AM - 11:00 PM
Wednesday
11:00 AM - 11:00 PM
Thursday
11:00 AM - 12:00 AM
Friday
11:00 AM - 12:00 AM
Saturday
9:00 AM - 12:00 AM