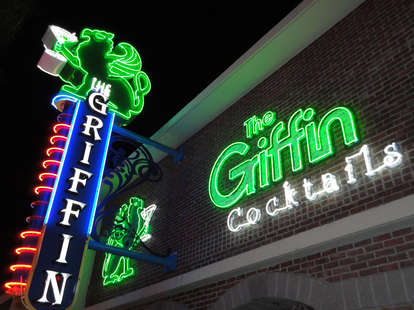 Courtesy of The Griffin
Calmer and more laid back than most of the party-focused bars in Vegas, The Griffin concentrates on serving up cold beer, great cocktails, and live music. The dark, cool bar is an escape from the desert heat of the city, with low lights and comfy booths for serious lounging. The selections of beer on tap and music in the jukebox are always changing, but they're both always fresh and hip. Two working fireplaces increase the coziness factor during the winter, and the back room features DJs and all night dancing all year round. It gets busy in here, especially during weekends and late nights, but this local's hangout is definitely worth checking out.
If locals are going to do "Vegasy" things, they're probably more inclined to "do" Fremont than anything on the Strip. But Fremont bars (especially deep Fremont, in or near the Fremont Street Experience) are not going to be their first go-to for grabbing a few drinks. The Griffin might be the closest thing to an exception to this rule. It's deep Fremont, no doubt, but once you're inside it feels very local. Drinks are strong and cheap, the live music and DJs in the back room are always a good time, the fireplaces are cozy during the colder months, and the vibe is very Rocky Mountains cabin/Scottish castle/Hogwarts-y—it's just a reliably fun, unfussy spot, and one that even local Las Vegans will go out of their way to go to.