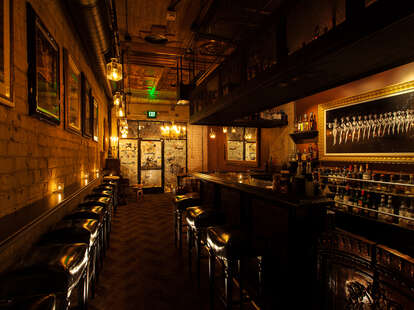 Photo courtesy of The Laundry Room
Once you get into this secret bar (located inside Commonwealth), there's only enough seats for just over two dozen people. They have rules like no texting, no photos, and no PDA in the bar -- but you'll be so busy watching bartenders craft insane drinks, you won't even mind.
Wednesday
8:00 PM - 2:00 AM
Thursday
8:00 PM - 2:00 AM
Saturday
8:00 PM - 2:00 AM
Commonwealth is a popular bar in the Fremont East district, but the Laundry Room—hidden behind the back wall underneath the stairs—carries the spirit of a true speakeasy. Originally the laundry facility for the historic El Cortez casino across the street, the intimate space accepts guests by reservation only with a limited number of seats. Browse through the menu for original cocktails—with cool names like The Deadpan and Arsenic Meets Lace—or just talk with the bartender about putting together a customized, balanced libation based on flavor, aroma, and mood. No matter what you get, every drink is $17. Pay attention to the house rules. No cell phones. No PDA. No rowdy behavior. Just set the real world aside and get lost in the world of true mixology.
How to get in: Make a reservation and you'll probably get on the Laundry Room's exclusive text list, which will be the best way to book subsequent visits in the future. Walk-ups at the entrance (a spray-painted door on 6th Street near Fremont) could get lucky, but timing is everything, so don't count on it.
Commonwealth is a great bar in its own right, but if you really want to take your cocktails up to next-level status, pay a visit to the Laundry Room, an intimate speakeasy that usually requires a text or online reservation to get in. The place was once an actual facility for a nearby hotel, but now has a throwback Prohibition-style vibe with vintage furniture and decor. There are a few drinks listed on the menu, but it's best to let the bartenders take their time and stir up a custom cocktail based on your mood, preferences, and personality. The more offbeat, the better.
Wednesday
8:00 PM - 2:00 AM
Thursday
8:00 PM - 2:00 AM
Saturday
8:00 PM - 2:00 AM