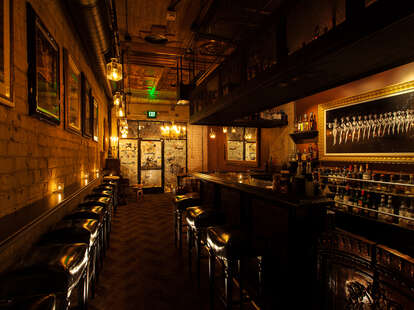 Photo courtesy of The Laundry Room
Once you get into this secret bar (located inside Commonwealth), there's only enough seats for just over two dozen people. They have rules like no texting, no photos, and no PDA in the bar -- but you'll be so busy watching bartenders craft insane drinks, you won't even mind.
Wednesday
8:00 PM - 2:00 AM
Thursday
8:00 PM - 2:00 AM
Saturday
8:00 PM - 2:00 AM
Commonwealth is a great bar in its own right, but if you really want to take your cocktails up to next-level status, pay a visit to the Laundry Room, an intimate speakeasy that usually requires a text or online reservation to get in. The place was once an actual facility for a nearby hotel, but now has a throwback Prohibition-style vibe with vintage furniture and decor. There are a few drinks listed on the menu, but it's best to let the bartenders take their time and stir up a custom cocktail based on your mood, preferences, and personality. The more offbeat, the better.
Wednesday
8:00 PM - 2:00 AM
Thursday
8:00 PM - 2:00 AM
Saturday
8:00 PM - 2:00 AM