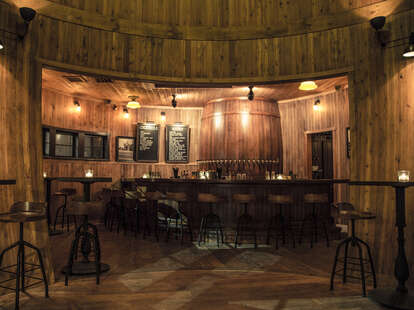 Photo by Danny Jensen for Thrillist
Originally built as a tap room in 1941, Idle Hour has been refurbished and reopened into a shining example of what every bar shaped like a giant whiskey barrel should be. Cocktails on tap, a top-notch patio out back, and even a separate private party annex that's shaped like a giant, pipe-smoking bulldog (everything is shaped like something!!) take this Vineland drinking destination to the next level.
Wednesday
3:00 PM - 2:00 AM
Thursday
3:00 PM - 2:00 AM
Saturday
11:00 AM - 2:00 AM
Forget the cocktails, craft beer, and better-than-average bar food—the main reason to visit Idle Hour is definitely the setting. The 1933 Group revived this legendary North Hollywood bar, which dates back to 1941 and last served as an apartment. The primary structure is barrel-shaped, which is a sight to behold, and the back patio is certainly inviting, with standard tables and shady trees. The patio even hosts a replica of Culver City's bygone, dog-shaped Bulldog Café, which now wears a mask. They've also launched a mule menu for cocktails featuring house-made ginger beer.
How to Book: online.
The barrel-shaped whiskey bar from the design wizards at the 1933 Group is keeping it simple with all-day wings and beer specials, but sometimes simplicity is all you need. If whiskey, beer, and wings are the ingredients of a perfect Super Bowl for you, Idle Hour is your spot.
Wednesday
3:00 PM - 2:00 AM
Thursday
3:00 PM - 2:00 AM
Saturday
11:00 AM - 2:00 AM