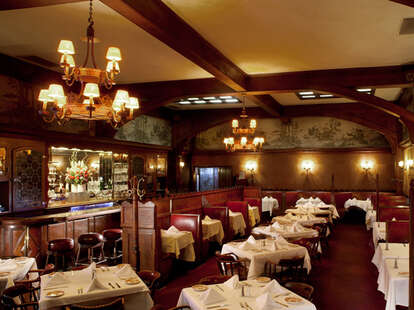 If you think Bradley Cooper's the hottest piece of meat to ever come out of Hollywood, you've clearly never been to Musso & Frank, a Tinsel Town institution since 1919.
Tuesday
11:00 AM - 11:00 PM
Wednesday
11:00 AM - 11:00 PM
Thursday
11:00 AM - 11:00 PM
Friday
11:00 AM - 11:00 PM
Saturday
11:00 AM - 11:00 PM
There's nothing like a restaurant that doubles as a historical landmark and employs bartenders who've worked there longer than you've been alive. Start with a martini—or two if you're there after lunch—and run through the vintage menu with items like Escargot, Lobster Thermidor, and what they claim is the original Fettuccine Alfredo, based on a recipe brought back to Musso's by Douglas Fairbanks and Mary Pickford. There are classic desserts as well like Diplomat Pudding and their famous Torten, but to be honest you're probably better off with another martini, or maybe a gibson this time, before you head back to the office to take a nap.
How to book: Make reservations online.
Tuesday
11:00 AM - 11:00 PM
Wednesday
11:00 AM - 11:00 PM
Thursday
11:00 AM - 11:00 PM
Friday
11:00 AM - 11:00 PM
Saturday
11:00 AM - 11:00 PM