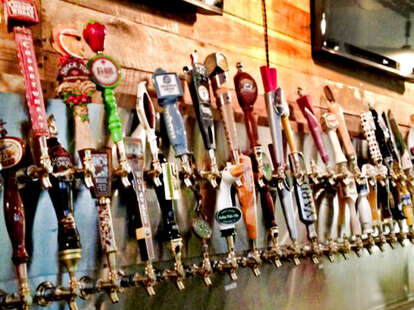 Finally, a Chinatown bar that the dude behind Hop Sing Laundromat can't turn you away from. BarLy's a 60-tapper ready to satisfy your fantasy draft lineup, because it's also the hood's biggest-screened sports bar, pouring everything from your basic domestics to Weyerbacher while you binge on late-night happy hour snacks like $3 banh mi, sushi, and French bread pizza, and cringe at Chip Kelly's next signal call on TVs wall-to-wall.
Tuesday
11:30 AM - 1:00 AM
Wednesday
11:30 AM - 1:00 AM
Thursday
11:30 AM - 1:00 AM
Saturday
11:30 AM - 2:00 AM
Visit the only sports bar in Chinatown for a fantastic menu of surprising bar grub, plus no less than 60 beer taps. You can slowly make your way through that list at Bar-Ly's daily happy hour which runs from 3 to 6 pm, even on weekends. Being a sports bar, you can catch the game while noshing on an eclectic menu that includes Peking duck sliders, veggie fajitas, and 10-piece wings.
Any sports bar can offer a mega pile of fries and a burger (and we love them for that), but where do you go if you're looking for a less basic food experience whilst watching sports? The answer: Bar Ly. Beyond the spot's 60-plus beer taps, find an eclectic food menu that puts bacon-wrapped quail eggs and fried chicken gizzards side-by-side with classic picks like onion rings and chicken wings.
Tuesday
11:30 AM - 1:00 AM
Wednesday
11:30 AM - 1:00 AM
Thursday
11:30 AM - 1:00 AM
Saturday
11:30 AM - 2:00 AM