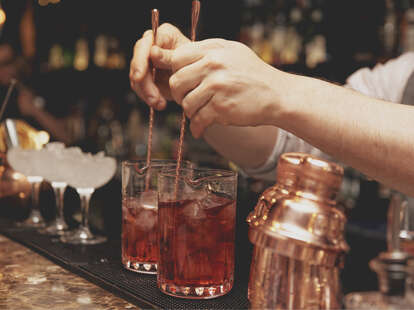 Stop into this semi-hidden haven in Chinatown for Prohibition-inspired cocktails, accented with a speakeasy vibe. This much-hyped, semi-mysterious spot-- patrons line up down the block for a chance to sample enigmatic owner Lê's signature libations, and you can't use cell phones or cameras inside the bar (don't think that rule won't be enforced if someone catches you)-- offers literally hundreds of liquor options, from Johnny Drum Private Stock bourbons to 15-year aged El Dorado.
Wednesday
5:00 PM - 2:00 AM
Thursday
5:00 PM - 2:00 AM
Saturday
5:00 PM - 2:00 AM
After a lengthy hiatus, Philly's most heralded speakeasy is back. If not for the line of well-dressed patrons waiting outside, Hop Sing Laundromat's unmarked entrance would be nearly impossible to spot. Pass through the wrought iron gate, though, and you'll find a spot that's been dubbed one of the best bars in America. Home to one of the largest collections of liquor in the country, Hop Sing offers expertly crafted cocktails and a setting so intimate and lovingly curated, you'll feel like you've stepped through a time machine. Led by mononymous owner Lê, the good folks at Hop Sing do put up vibe killers, and they've got a list of banned patrons to prove it. The bar maintains a strict set of house rules, which you'll learn upon entering. Here's a start: Bring cash, tip well, stash your phone (no photos allowed), and, if you can manage it, don't wear shorts. These days, you'll also need your vaccination card. Not a picture of it. The real thing.
How to get in: Look for the door with the wrought-iron gate and stainless steel buzzer between 10th and 11th on Race Street. If you go on a weekend it won't be hard to find, since you'll likely be joining a queue of people waiting for a seat.
Wednesday
5:00 PM - 2:00 AM
Thursday
5:00 PM - 2:00 AM
Saturday
5:00 PM - 2:00 AM