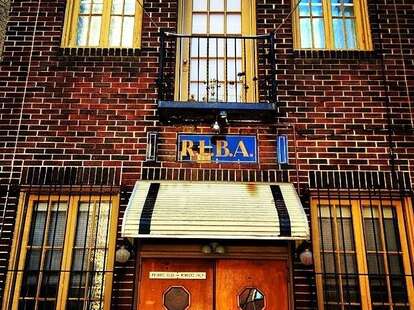 The Russian United Beneficial Association in NoLibs accepts all nationalities to enjoy after hours, pool, ping-pong and cheap beer at this dive bar.
Saturday
10:00 PM - 3:00 AM
You never know just what you'll find at Ruba Club, one of the city's most storied social clubs, Established in 1914 as the Russian United Beneficial Association, Ruba began as a speakeasy for Russian immigrants. These days, the bi-level event space has become a destination for burlesque, cabaret, film screenings, and more. Ruba Club is known for its after-hours crowd, usually filling up around 2 am with partygoers who aren't ready to call it quits. On off-nights, you'll find plenty of pool and pong on the first floor. No fancy-schmancy food or drink lists here. Just affordable beer and cocktails for an interesting crowd.
How to get in: Short of having a membership to the Russian United Beneficial Association, or tickets to a show, you'll likely have to pay a cover to get in. Head down Green Street toward 4th. There will be a darkened courtyard on your left side. Look for a weather-beaten upright piano.
Saturday
10:00 PM - 3:00 AM