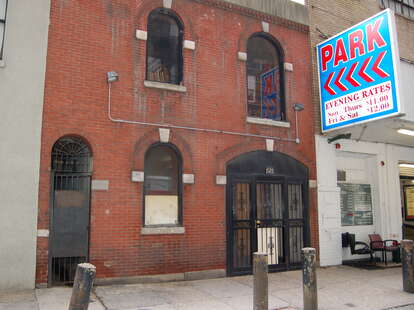 The Rittenhouse Square is home to the oldest continuously operating press club in America. The P&P is an upstanding citizen during the day with panel talks and such, but at night it turns into a divey joint.
Wednesday
6:30 PM - 3:00 AM
Thursday
6:30 PM - 3:00 AM
Saturday
7:00 PM - 3:00 AM
While most of the spots on this list are newish ventures seeking to invoke a Prohibition-era mood, the Pen & Pencil Club is an OG speakeasy and one of the oldest press clubs in the country. Since 1929, the club has offered much-needed drinks to journalists, reporters, radio hosts, and other media types. It's off-the-record, too, if that means anything to you. P&P's laidback, divey vibe is perfect if you're looking for some real conversation and a stiff drink (we hear you should ask for the Emeritus Manhattan). Plus, its members-only status means the club stays open much later than Philly's typical 2 am curfew. Hungry? Brace yourself. P&P is (in)famous for its crockpot of hotdogs. Fun fact: The late great Anthony Bourdain took a shot of Pen & Pencil hotdog water in 2012 after losing a game of rock, paper, scissors.
How to get in: Pen & Pencil club is members-only and largely attracts press, attorneys, and service workers. However, current members are pretty chill about sponsoring a newbie. Head to 15th and Latimer, look for the neon "P&P" sign, and see if anyone is feeling generous.
Wednesday
6:30 PM - 3:00 AM
Thursday
6:30 PM - 3:00 AM
Saturday
7:00 PM - 3:00 AM