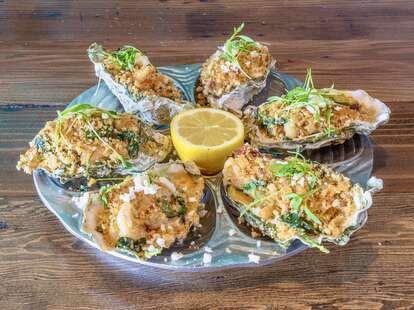 Duck Dive is an American Gastropub knocking it out of the park in two categories: gourmet food and drinks that include micro-brews and speciality cocktails.
Saturday
9:00 AM - 2:00 AM
Celebrate Turkey Day at the beach and let Duck Dive take care of the cooking. The Traditional Turkey Dinner Plate comes with all your favorites, including juicy turkey, savory stuffing, mashed potatoes, cranberries, green beans, and a delicious slice of pumpkin pie, all for an affordable $25. They'll be open from 10 am–10 pm, and the turkey dinner will be available while supplies last. They are also having a canned food drive to benefit the San Diego Food Bank, so bring in a can of (unexpired) food and get a DD Jameson Irish Coffee to sip with your dinner.
Cost: $25
How to book: Seating is available on a first-come basis.
Known for coastal-inspired fare and craft cocktails, The Duck Dive spices its oysters on the half-shell with a jalapeño-citrus mignonette and cocktail sauce. Besides raw bivalves, there's also Oysters Rockefeller—broiled and topped with shrimp, spinach, chipotle jack cheese, and breadcrumbs. Both dishes can be ordered by the half- or full-dozen and range from $16-$18 and $26-$30, respectively.
How to book: Seating is on a first-come basis.
Saturday
9:00 AM - 2:00 AM