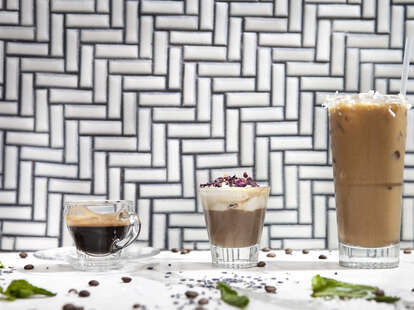 Photo courtesy of Holsem Coffee
Holsem Coffee is all about quality, sparing no expense to source the highest-grade beans from all over the globe. This small-batch roaster offers seven roasts daily like Yirgacheffe, Sidamo, and its own Holsem Blend. Beer people, you'll love that they have a 15-tap system that pours a selection of cold brew on nitro. It also offers 18 non-alcoholic blended, shaken and mixed "coffee parlour cocktails" like banana bread (cold brew, banana milk, cinnamon, honey) and lavender (dark chocolate, lavender confetti, milk). These are made from all-natural, house-made nut milks, malts, fruit purées, and syrups created with evaporated cane sugar.
Wednesday
8:00 AM - 2:00 PM
Thursday
8:00 AM - 2:00 PM
Saturday
8:00 AM - 2:00 PM
This North Park coffee shop serves up the usual caffeine-fueled beverages but shines with its house-made creations. One look at the menu and you'll see three unique cold brew flavors, like lemon meringue, nutella, and banana bread, plus a bevy of lattes flavored with the likes of orange zest, rose water, and strawberry malt. The drinks feature house-made nut milks, fruit purees, and beans roasted on-site.
Wednesday
8:00 AM - 2:00 PM
Thursday
8:00 AM - 2:00 PM
Saturday
8:00 AM - 2:00 PM