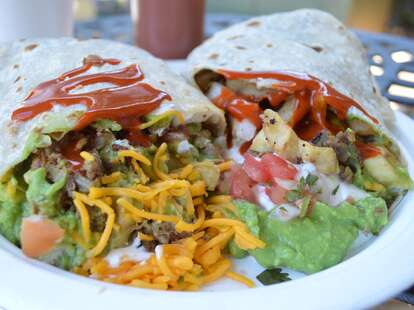 Natalie Holtz
Natalie Holtz
One of San Diego's best Mexican joints, they have an extensive menu which features massive burritos, plus an ever-refilled salsa bar.
Tuesday
9:00 AM - 11:00 PM
Wednesday
9:00 AM - 11:00 PM
Thursday
9:00 AM - 11:00 PM
Saturday
9:00 AM - 2:00 AM
Jesse Verduzco's spot's sheer breadth and depth of good burritos, from the Surf-N-Turf to the Hawaiian, might be—dare we say—unrivaled in SD. But if you are going to go the traditional route, the California burrito is made with carne asada, short and thick fries, guac, sour cream, salsa, cheese, and the biggest tortilla you've ever seen. Grab some buñuelos on your way out.
How to order: Seating is on a first-come basis.
Tuesday
9:00 AM - 11:00 PM
Wednesday
9:00 AM - 11:00 PM
Thursday
9:00 AM - 11:00 PM
Saturday
9:00 AM - 2:00 AM