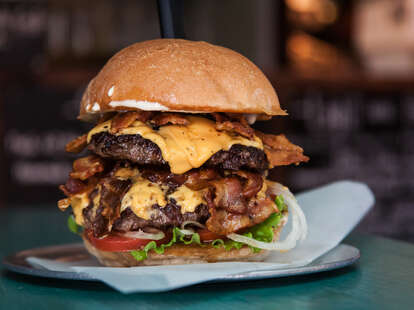 Tin Can Alehouse (known for live music, canned beers, and a couple of guys slinging burgers through a little window) was rebranded as The Balboa Bar & Grill, featuring live music on Fridays and Saturdays, craft beers & cocktails, and extended kitchen hours -- meaning you can get mouthwatering burgers every day, from 11am-midnight.
Monday
11:00 AM - 12:00 AM
Tuesday
11:00 AM - 12:00 AM
Wednesday
11:00 AM - 12:00 AM
Thursday
11:00 AM - 12:00 AM
Friday
11:00 AM - 12:00 AM
Saturday
11:00 AM - 12:00 AM
Sunday
11:00 AM - 12:00 AM
A collective cheer went up from burger lovers across San Diego when The Balboa Bar and Grill reopened after owner Tom Logsdon had announced its permanent shuttering in July 2020. Thanks to an unexpected proposal from his landlord, it's back—bigger and better than ever. The namesake Balboa Burger is always a solid choice, seared on a flat top and piled with fresh lettuce, tomato, onion, a garlic aioli smear, and gooey melted American cheese, all tucked into a freshly baked bolillo bun that's robust enough to capture all the succulent juices without dissolving halfway through. Add a finely crafted cocktail, sit back, and enjoy one of life's perfect moments.
How to book: Seating is available on a first-come basis.
Monday
11:00 AM - 12:00 AM
Tuesday
11:00 AM - 12:00 AM
Wednesday
11:00 AM - 12:00 AM
Thursday
11:00 AM - 12:00 AM
Friday
11:00 AM - 12:00 AM
Saturday
11:00 AM - 12:00 AM
Sunday
11:00 AM - 12:00 AM