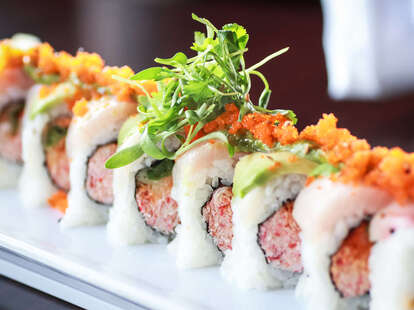 Combining the considerable powers of a chap who'd planned on opening a sushi spot and a pair of Ohio-born bros (a beer connoisseur and the singer from up-and-coming The Deadly Birds), Joint's got a little something for everyone, slinging craft beer, tapas, and (soon-to-come) sushi in a space featuring a custom-built red oak bar, maroon walls, and an interior entirely furnished with prime finds from Craigslist, which were totally Encountered Casually, never expecting to actually go home with anyone.
Tuesday
12:00 PM - 10:00 PM
Wednesday
12:00 PM - 10:00 PM
Thursday
12:00 PM - 10:00 PM
Friday
12:00 PM - 11:00 PM
Saturday
10:30 AM - 11:00 PM
Sunday
10:30 AM - 10:00 PM
In true OB fashion, The Joint is doing something a little different—serving a long list of legit sushi and specialty rolls in addition to a tapas menu that has absolutely nothing to do with Asian fare. No matter what kind of sushi you like, you'd be hard pressed not to find something you love on their list—like the tuna poke or the Bomb-A-Licious roll full of spicy crab and tempura shishito peppers topped with hamachi, avocado, micro cilantro, habañero, masago, and cilantro pepper sauce.
How to book: Make reservations or order takeout online, or call the restaurant at 619-222-8272. Walk-ins are accepted if seating is available.
Tuesday
12:00 PM - 10:00 PM
Wednesday
12:00 PM - 10:00 PM
Thursday
12:00 PM - 10:00 PM
Friday
12:00 PM - 11:00 PM
Saturday
10:30 AM - 11:00 PM
Sunday
10:30 AM - 10:00 PM