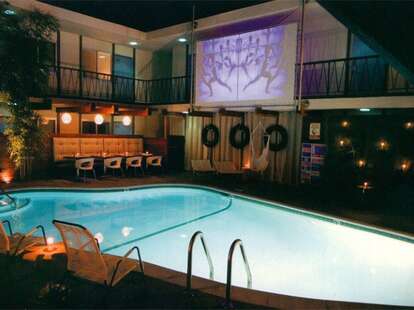 The Pearl is a hotel and lounge in San Diego with a sweet pool area.
Tuesday
5:00 PM - 11:00 PM
Wednesday
5:00 PM - 11:00 PM
Thursday
5:00 PM - 11:00 PM
Saturday
11:00 AM - 12:00 AM
Every Wednesday evening, the iconic, retro-inspired Pearl Hotel hosts a free Dive-in Theatre event poolside. Drop in early to grab a bite to eat at the newly revamped Charles and Dinorah restaurant, named for the couple who owned the hotel for forty years, back when it was called Sportsman's Lodge. Après-dinner, grab a cocktail from the bar and a pool chair, or, if you're the adventurous type, hop into the pool to view the show. No splashing!
How to book: Reservations can be made by calling (619) 226-6100. Walk-ins are welcome if seating is available.
Tuesday
5:00 PM - 11:00 PM
Wednesday
5:00 PM - 11:00 PM
Thursday
5:00 PM - 11:00 PM
Saturday
11:00 AM - 12:00 AM