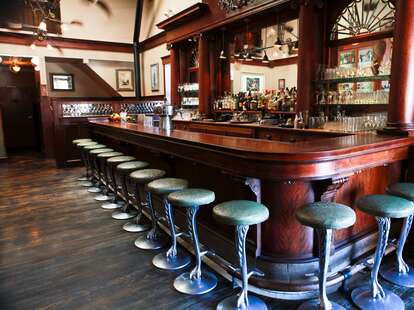 Photo by Natalie Darville, courtesy of Comstock Saloon
From the folks behind Absinthe, Comstock is a classic San Francisco bar in North Beach. The throwback interior is outfitted with antique fans, a 150-year-old absinthe fountain, and the spot's original mahogany bar from 1907. The cocktails are just as classic as the bar, and the tie-and-vest wearing bartenders know how to mix pisco, lemon juice, and pineapple gomme into a standout punch.
Wednesday
4:00 PM - 2:00 AM
Thursday
4:00 PM - 2:00 AM
Saturday
11:30 AM - 2:00 AM
At the curious intersection of Chinatown and North Beach, amid cheesy tourist traps and dental offices, there exists a soothing respite in Comstock, a reimagined, turn-of-the-century saloon with classic cocktails, affordable and creative beer-and-shot combos, good food, and live music with no cover. Our favorite place to sip is at the 20-foot-long mahogany bar from 1907 (be sure to take note of the—thankfully, no longer in use—urinal trough that runs beneath it), but there's not a bad seat in the house. Stop by on Friday afternoons when the purchase of two cocktails gets you lunch on the house.
How to book: Walk-ins only.
Wednesday
4:00 PM - 2:00 AM
Thursday
4:00 PM - 2:00 AM
Saturday
11:30 AM - 2:00 AM