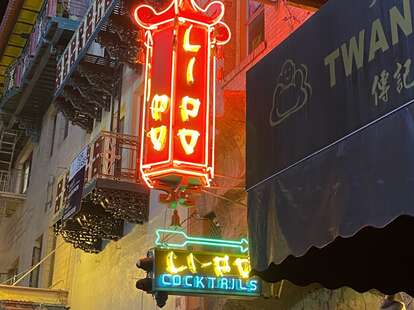 Photo by Daisy Barringer for Thrillist
Live music, Mai Tais, and Chinese whiskey are reason enough to come visit this divey cocktail lounge in Chinatown.
Wednesday
2:00 PM - 2:00 AM
Thursday
2:00 PM - 2:00 AM
Saturday
2:00 PM - 2:00 AM
Anthony Bourdain put this come-as-you-are dive bar on the map when he famously imbibed (perhaps one too many) of the infamous (and yes, we are using that word properly) Chinese Mai Tais in a San Francisco episode of his Travel Channel show TheLayover. But even before he brought widespread attention to this spot, those in the know headed through the red-lacquered double doors under the (somewhat recently restored) neon lantern sign for stiff drinks at the wraparound bar in the front and dice games in the back. Like, long before. As in: since 1937.
How to book: Walk-ins only.
Wednesday
2:00 PM - 2:00 AM
Thursday
2:00 PM - 2:00 AM
Saturday
2:00 PM - 2:00 AM