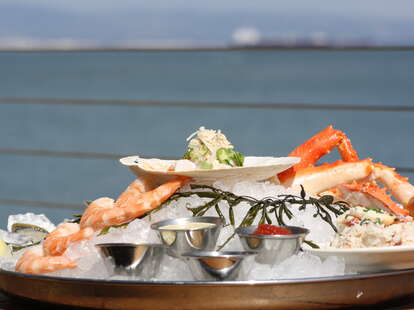 On those all-too-precious sunny days in SF, there's nothing more quintessentially summer than finding a patio by the water and savoring cocktails while slurping oysters and enjoying stunning views of the bay. Mission Rock Resort knows this all too well, hence the 99-cent oysters weekdays from 3-7pm, pristinely sourced seafood, and refreshing cocktails like pineapple daiquiris and pisco punch.
Tuesday
11:00 AM - 9:00 PM
Wednesday
11:00 AM - 9:00 PM
Thursday
11:00 AM - 9:00 PM
Saturday
10:00 AM - 9:00 PM
We can't think of anything better than eating fresh oysters on a two-level deck jutting out into the Bay with a cold beer or glass of wine or cocktail, and maybe a crab roll or some fish tacos or, on the weekends, a Dungeness Crab Benedict. Good thing we have the Mission Rock Resort, which, in addition to being ideally situated for pre-Warrior's games good luck oysters (that's a thing, right?), is also often blocked from the wind, a waterfront rarity in this town.
How to book: Reservations are available via Yelp.
Tuesday
11:00 AM - 9:00 PM
Wednesday
11:00 AM - 9:00 PM
Thursday
11:00 AM - 9:00 PM
Saturday
10:00 AM - 9:00 PM