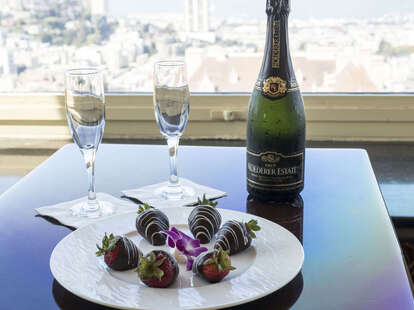 Photo by Conne Perez-Wong, courtesy of Top of the Mark
If you like your stunning view with a side of martini, this is your booze-soaked huckleberry. In addition to having a hella classy mid-Century vibe, Top of the Mark boasts a "100 Martini Menu," the best of which can be found on page one. The namesake martini is a straight-up, straightforward blend of Ketel One, vermouth, and two olives -- shaken, not stirred, Mr. Bond. Don't be afraid to show up in a tux. And, don't be surprised if you see at least three proposals.
Tuesday
4:30 PM - 11:30 PM
Wednesday
4:30 PM - 11:30 PM
Thursday
4:30 PM - 11:30 PM
Saturday
4:30 PM - 12:30 AM
This penthouse lounge and restaurant on the 19th floor of the elegant Mark Hopkins Hotel is certainly a favorite with tourists thanks to the 360-degree views of the city and signature martinis, but if you're looking for romance, don't eschew it just because of that. It's also a favorite with locals looking to enjoy sunset cocktails, fancy tapas, charcuterie, caviar, live music, and maybe even a spin on the dance floor. Not convinced? Maybe this story will do the trick: In the early 1940s, when the U.S. entered World War II, Pacific-bound soldiers would go to Top of the Mark to have one last drink, toasting the Golden Gate Bridge for luck, before shipping out.
How to book: Walk-ins are welcome on a first-come, first-served basis. Reservations are available online.
Tuesday
4:30 PM - 11:30 PM
Wednesday
4:30 PM - 11:30 PM
Thursday
4:30 PM - 11:30 PM
Saturday
4:30 PM - 12:30 AM