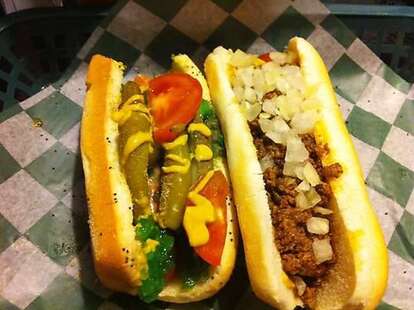 Ivy and Coney
Ivy and Coney
Ivy and Coney is a homey dive bar in Shaw that delivers a relaxed neighborhood vibe, delicious hotdogs, and a menu that includes nothing over $6.
Wednesday
4:00 PM - 2:00 AM
Thursday
4:00 PM - 2:00 AM
Saturday
12:00 PM - 3:00 AM
Cheap food and booze are two of the big selling points at this Detroit- and Chicago-themed haunt. A basic beer at this cash-only dive runs just a few bucks no matter what time you stop in, and shots of Malort are always in style. Ivy and Coney's food sticks to its regional roots with a menu of Midwestern-inspired dogs and sausages.
This friendly neighborhood bar dedicated to all things Chicago and Detroit offers cheap eats and drinks with a view that is anything but budget. The roofdeck is a great place to take in the sights and sounds of the game (this is a sports bar, after all), and you can't go wrong with a Detroit-style pizza washed down with a local beer. Plus, there are both food and drink specials from Sunday to Wednesday, and on Saturday during University of Michigan games.
Wednesday
4:00 PM - 2:00 AM
Thursday
4:00 PM - 2:00 AM
Saturday
12:00 PM - 3:00 AM