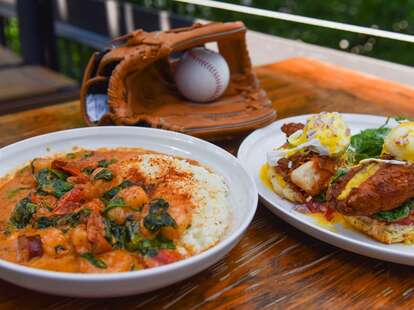 Photo courtesy of Big Sky Buckhead
BSB is well-beyond the traditional Buckhead sports bar fare, with an impressive menu that includes fried coconut bread known as "donas", which sounds like "donuts", and tastes like really, really good donuts. They also steam that coconut bread into buns which host a very tight slider menu that goes great with affordable drafts.
Tuesday
6:00 PM - 12:00 AM
Wednesday
6:00 PM - 12:00 AM
Thursday
5:00 PM - 2:30 AM
Saturday
11:30 AM - 2:30 AM
Sunday
11:30 AM - 12:00 AM
If brunch and Sunday football are both on your itinerary this weekend, Big Sky is the perfect place for you. For what they call "the most important meal of the week," Big Sky serves up its heavy hitters, including its Nashville Sliders, Fried Chicken Benedict, Big Sky Burger, and its appetizing combination of sautéed shrimp and cheese grits. Those who aren't tied down to the brunch and mimosa concept will also enjoy specialty craft cocktails like the Buffalo Soldier (Buffalo Trace bourbon, Campari, POM juice, fresh lemon juice, agave nectar, and Angostura bitters), Harvest Mule (Hanson mandarin vodka, apple cider, Fever-Tree ginger beer, fresh orange, and cinnamon), or the Housemade Hooch (Bare Bone vodka, cinnamon, seasonal spices, and grain alcohol). During the fall, Big Sky saves its brunch festivities for Sunday from 11:30 am to 3:30 pm, but throughout the rest of the year, guests can enjoy brunch on Saturdays and Sundays.
Tuesday
6:00 PM - 12:00 AM
Wednesday
6:00 PM - 12:00 AM
Thursday
5:00 PM - 2:30 AM
Saturday
11:30 AM - 2:30 AM
Sunday
11:30 AM - 12:00 AM