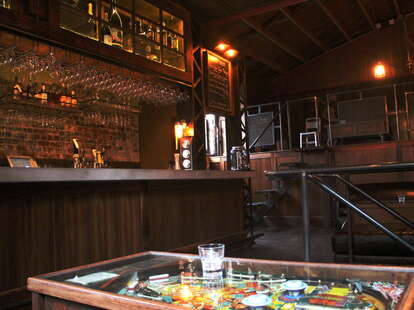 Brigantine Beer Parlor and Recreation Hall
Come to The Brigantine for their rare 750ml bottled beers, stay for the parlor games in the back that include skeeball, shuffleboard and obscure joints like "skittles" (a old British game they describe as "tetherball-meets-bowling/chess"), and crokinole (like curling with marbles).
Thursday
8:00 PM - 2:30 AM
Saturday
8:00 PM - 2:30 AM
Specialty bottled beers both local and abroad, parlor games like shuffleboard and skeeball—as well as ancient British ones such as crokinole—are all waiting for you underneath a menacing giant squid hanging from the ceiling. Walk directly to the back of Argosy in EAV, for a spot that keeps a great, rare 750ml cask beer situation, and hosts a ton of events that make it not as stuffy as other local speakeasy-esque joints. Play their infamous Argo-Skee, check out the comedy shows, DJ parties, and more, Also, the establishment's wood-fired pizzas are to die for.
Thursday
8:00 PM - 2:30 AM
Saturday
8:00 PM - 2:30 AM