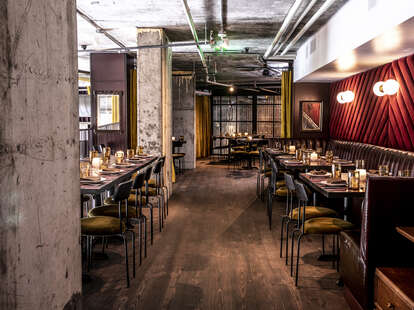 This industrial-chic Spanish spot has a menu packed with tasty tapas, quesos, and cocas (flatbreads) -- all perfect for sharing. Grab a group of friends and considering splitting the B.W.D. (bacon-wrapped dates stuffed with Manchego cheese and walnuts) or the albondigas (wild boar suasage meatballs). Their beverage program is on-point and pig-focused, too, featuring signature cocktails like the Iberian Old Fashioned with bacon-infused rye.
Tuesday
5:00 PM - 10:00 PM
Wednesday
5:00 PM - 10:00 PM
Thursday
5:00 PM - 10:00 PM
Saturday
5:00 PM - 11:00 PM
The Iberian Pig will be open on Christmas Eve this year, and patrons will be able to try featured menu specials like the roasted veal shank with porto glaze, arroz rojo, mojo, and gremolata. There will also be specialty drinks available, such as the Sangria Noel (housemade sangria with allspice dram and ginger) and the Stingle Bells (cognac, rye, peppermint schnapps, amaro, and five-spice.)
How to order: Make reservations online via OpenTable or by calling 404-371-8800.
Tuesday
5:00 PM - 10:00 PM
Wednesday
5:00 PM - 10:00 PM
Thursday
5:00 PM - 10:00 PM
Saturday
5:00 PM - 11:00 PM