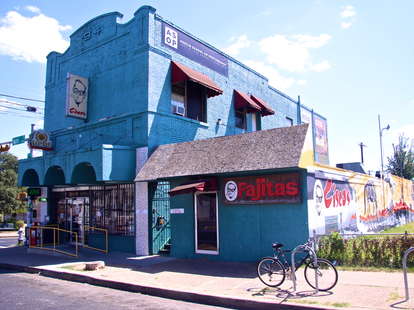 Cisco's Restaurant & Bakery
Classically delicious Mexican breakfast and lunch (and brunch) is served in this Central East, which is often frequented by the politically inclined. Be sure to stop by and try the legendary migas breakfast plate. Plus, Cisco's Restaurant & Bakery€Ž has an enormous mural depicting the owners' family history in the restaurant business, including human-sized chickens and flying pigs.
Wednesday
7:00 AM - 2:30 PM
Thursday
7:00 AM - 2:30 PM
Saturday
7:00 AM - 2:30 PM
When Matt Cisneros and the team took the helm, they wanted to maintain all the best aspects of Cisco's while adding new life to it. Cisneros takes great pride in looping more people into the restaurant. Whether through social media or by emphasizing the restaurant's history, Cisneros wants people to feel that they have a tie to the city through Cisco's. That wish applies whether you're a long-time resident or new arrival. "I consider East Austin like Brooklyn, it's its own complete city," he says. "I am glad to get new faces in the door that we wouldn't have gotten otherwise." All those who do stop by will find themselves greeted with an excellent variety of Tex-Mex options. The star of the show here is the Huevos Rancheros. You'd also do yourself good to pick up an order of Cisco's famous homemade biscuits, which come in many delicious varieties.
How to book: Stop by for first come, first served seating.
For more than 70 years, Cisco's has been slinging some of the best Tex-Mex known to man out of its historic 6th Street location. The iconic restaurant was founded by Rudy "Cisco" Cisneros, who ran it until passing the torch to his grandson, Matt, in 2017. Cisco's loves to make audacious (but entirely plausible) claims that they're responsible for the fame of Huevos Rancheros and that they started the Austin Tex-Mex scene, and once you try the food, you won't care to argue with any of it. Plus, if you want to polish off a few tacos before you hit the links, you can check out Cisco's Muny Cafe conveniently located on Lions Municipal Golf Course.
Must-try taco: Chorizo and Egg
A flour tortilla filled with spiced pork and fluffy eggs pairs pristinely with Cisco's seemingly bottomless coffee. Add cheese and salsa for an added kick.
How to order: Stop by for first come, first served seating or order catering for takeout and delivery via ezCater.
Wednesday
7:00 AM - 2:30 PM
Thursday
7:00 AM - 2:30 PM
Saturday
7:00 AM - 2:30 PM