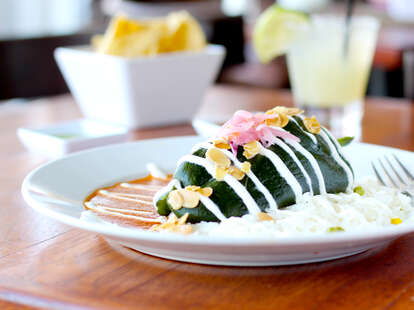 Featured In
Austin's Best Mexican Restaurants for Cinco de Mayo and Beyond
El Alma remains one of the most popular spots in Barton Springs, thanks to a rooftop boasting skyline views and a menu that's equal parts quality and affordable. Here, Chef Alma Alcocer showers Austin with Mexico City-born gems like crema de elote and roasted duck relleno, among other enticing dishes. Happy hours run daily between 3 pm and 6 pm and the weekend brunch is well worth booking days in advance.
How to order/reserve: Book a table on Resy or call 512-609-8923 for take-out.
10 Women-Owned Restaurants to Support in Austin
It's hard to beat El Alma when it comes to outdoor patios—their umbrella-decked rooftop deck, which overlooks the greenery of Butler Park, is the ideal place for happy hour people (and dog) watching. Although, to be fair, with enough of their Jacked Sangrias (yes, that's sangria plus Jack Daniel's—we promise it works), almost anyone can get in the "Friday-after-work" mood. Luckily, the food prepared at El Alma, by chef and partner Alma Alcocer, packs as much of a punch as their drinks. While Alcocer's Mexico City roots are firmly planted in the flavors of each dish she creates, it would be a crime to go to El Alma without ordering her signature Crema de Elote soup, a smooth and earthy chowder made of corn and poblano pepper which is topped with queso panela.
How to order: Reservations can be made online for dine-in, as well as for food to-go. There is also a subscription service, El Alma at Home, currently being offered.