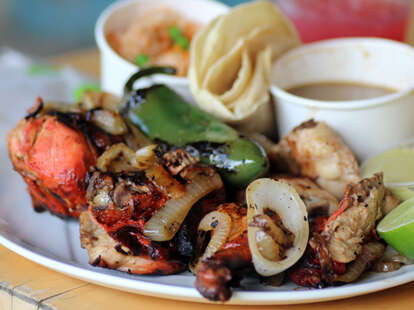 Fresa's Chicken al Carbon
Offering a Pollo Rico alternative for the rico is Fresa's: a gourmet take on charcoal-grilled chicken drive-thrus in the old Emerald City Press spot, from the dudes behind Lambert's, Perla's, and Elizabeth St Cafe, another successful example of a regional delicacy made really pho-king expensive.
Tuesday
8:00 AM - 10:00 PM
Wednesday
8:00 AM - 10:00 PM
Thursday
8:00 AM - 10:00 PM
Saturday
8:00 AM - 10:00 PM
For the best Mexican-style chicken around, look no further than Fresca's Chicken Al Carbon. Here, you'll chomp on rotisserie-style bird doused in either achiote and citrus or Yucatecan spice rubs. Both are served with charro beans, rice, onions, jalapeño, corn tortillas, and salsa. Fresca's, of course, caters to Texas dietary requirements: the red meat option is a Chimichurri Skirt Steak, and the seafood option is Aji-glazed prawns. Note that there are now two locations, one on 9th and Lamar and the larger South First location, where more variations are available.
How to order: Order takeout via Toast or get delivery via Favor.
The OG Fresa's made its name on 9th and North Lamar as a drive-thru setup, before ownership added a dine-in location to the mix on South 1st in 2016. The newer spot features a full bar and a dog-friendly, Edison bulb-draped patio, and you can enjoy Fresa's killer breakfast tacos at either location. From 8 to 11 am every day, foil-wrapped tacos with colorful labels pour out of the kitchen. We're fans of The Margie (steak and eggs, rajas, charred onions) and The Flaco for a healthier option (black beans, potato, avocado, cabbage, rajas, pico de gallo, corn tortilla). And, if you arrange the tacos and salsas juuuust so, they're quite photogenic.
Must-try taco: The Tricky
The Tricky is literally a tricked-out migas taco, with ripe avocado, crumbly queso fresco, and cilantro acting as the perfect accouterments.
How to order: Reserve via Resy (South 1st only) or order takeout via Toast (South 1st, Lamar).
Tuesday
8:00 AM - 10:00 PM
Wednesday
8:00 AM - 10:00 PM
Thursday
8:00 AM - 10:00 PM
Saturday
8:00 AM - 10:00 PM