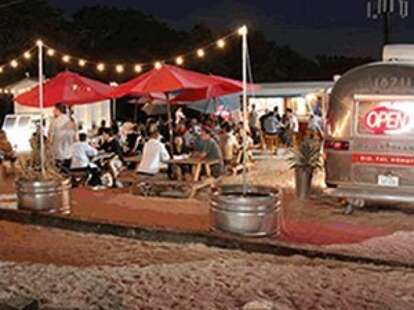 Scarf a donut or seven at this Airstream operation doling out meal-sized concoctions like the fried chicken strips & honey butter Mother Clucker, the Oreo/fudge icing/gummy worm Baby Rattler, and a cream-filled donut hole rolled in coconut known as the "ODB", which they'll only hand over after they've Got Your Money.
Monday
10:00 AM - 12:00 AM
Tuesday
10:00 AM - 12:00 AM
Wednesday
10:00 AM - 12:00 AM
Thursday
10:00 AM - 12:00 AM
Saturday
8:00 AM - 3:00 AM
Gourdough's stands out with the most elaborate donuts on the list—we're talking the kind you need a fork and knife to get through, like the Elvis, which boasts caramelized bananas, bacon, and peanut butter on a single ring. At first glance, the menu may give you paralysis-by-analysis, but even if you make an impulse order, you'll still end up with one of the best and most memorable donuts you've ever had.
How to order: Stop by for first come, first served seating, order takeout via Toast or get delivery via Grubhub and DoorDash.
Monday
10:00 AM - 12:00 AM
Tuesday
10:00 AM - 12:00 AM
Wednesday
10:00 AM - 12:00 AM
Thursday
10:00 AM - 12:00 AM
Saturday
8:00 AM - 3:00 AM