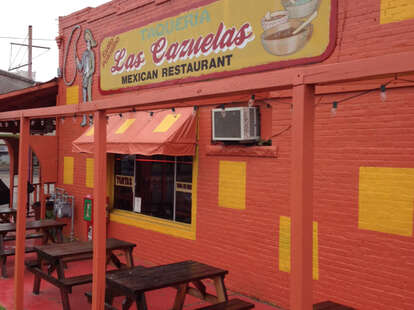 Las Cazuelas Mexican Restuarant
Grab lunch or fuel up post-partying (open 24 hours!) at this divey Mexican joint, which serves a gargantuan menu of favorites and lesser-known dishes common to Mexico's San Luis Potosi region, like the air-dried beef steaks with prickly pear salsa.
Wednesday
5:00 AM - 2:00 AM
Thursday
5:00 AM - 5:00 AM
Saturday
5:00 AM - 5:00 AM
Known to be open late every day of the week, Las Cazuelas Mexican is a refuge of satisfying food during a long night. Rocking a red and white brick exterior, the restaurant has been operating in town for a good few decades—for good reason. It's got a large menu with affordable prices, and its breakfast tacos, chicken mole enchiladas, or beef fajitas just might be what you need at any point of the day.
How to book: Stop by for first come, first served counter orders or call (512) 479-7911 for takeout.
Wednesday
5:00 AM - 2:00 AM
Thursday
5:00 AM - 5:00 AM
Saturday
5:00 AM - 5:00 AM