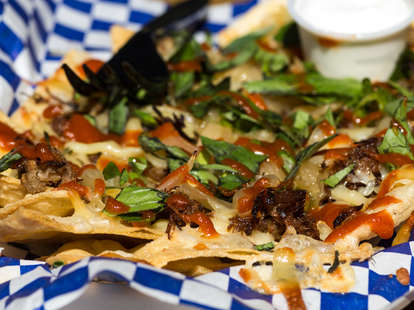 Formed by three Caucasian <em>offspring</em> of Austin's culinary school, Pretty Thai For A White Guy is a trailer on the grounds of the Moontower Saloon, now dishing out stuff like Far East fusion nachos w/ pulled pork, sour cream, Thai basil, onions caramelized with serranos for heat, and Sriracha.
Tuesday
11:00 AM - 2:00 AM
Wednesday
11:00 AM - 2:00 AM
Thursday
11:00 AM - 2:00 AM
Saturday
11:00 AM - 2:00 AM
In recent years, South Austin bars have garnered a reputation for their expansive square footage. Moontower Bar was one the first to set that trend. The massive dog-friendly venue will make you wonder why you'd ever want to wander the packed streets of Dirty Sixth. The venue is so big, in fact, that it boasts three full-size sand volleyball courts. If you're looking for a sporty night out, you've found it. It also has a full bar and food on site from Hot Texas Grills.
How to book: Stop by for first come, first served seating or reserve the volleyball court via the website.
Tuesday
11:00 AM - 2:00 AM
Wednesday
11:00 AM - 2:00 AM
Thursday
11:00 AM - 2:00 AM
Saturday
11:00 AM - 2:00 AM