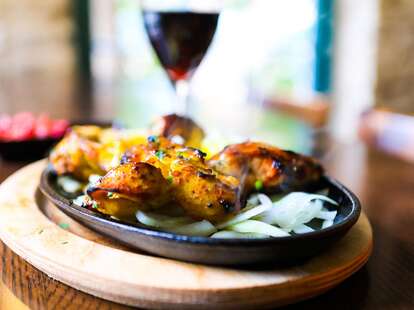 Photo courtesy of The Clay Pit
The Clay Pit is a favorite for Indian cuisine in downtown Austin, serving up traditional dishes alongside more unique items like their Curried Mussels. Be sure to check out their selection of grilled goodies from their namesake: the Tandoor, or clay pit oven.
Tuesday
11:00 AM - 2:30 PM
Wednesday
11:00 AM - 2:30 PM
Thursday
11:00 AM - 2:30 PM
Tuesday
5:00 PM - 10:00 PM
Wednesday
5:00 PM - 10:00 PM
Thursday
5:00 PM - 10:00 PM
Saturday
12:00 PM - 3:00 PM
Saturday
5:00 PM - 11:00 PM
Casual enough to chow down on the regs yet swanky enough for date night, Clay Pit is a jack of all trades. Their extensive menu encompasses curries, salads, soups, wings, Tandoor kebabs, biryanis, naan pizza (go for the Chicken Vindaloo option), desserts, and if that wasn't enough, a full-service bar with a killer happy hour.
How to book: Reserve via Yelp or order take-out via RevelUp.
Tuesday
11:00 AM - 2:30 PM
Wednesday
11:00 AM - 2:30 PM
Thursday
11:00 AM - 2:30 PM
Tuesday
5:00 PM - 10:00 PM
Wednesday
5:00 PM - 10:00 PM
Thursday
5:00 PM - 10:00 PM
Saturday
12:00 PM - 3:00 PM
Saturday
5:00 PM - 11:00 PM