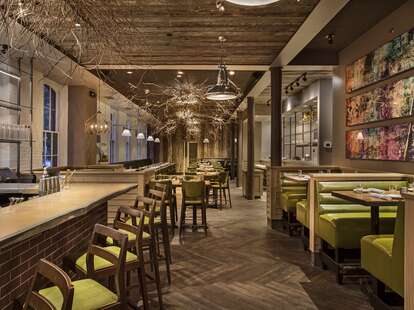 Courtesy of Banyan Bar + Refuge
From the team behind The Gallows and Blackbird Donuts (so you know it's good), the South End's Banyan Bar + Refuge is an eclectic Asian gastropub with enormous tree-branch light fixtures on its ceiling and tasty oddities like scallop rangoon dip, mapo frito pie, pastrami fried rice, and fried cornish game hen on its menu. Banyan's craft cocktails and their clever names are equally intriguing, such as the Svelte Sumo (vodka, sake, lemon, cucumber), Sad Panda (gin, watermelon, aloe, lime), and Dharma Chameleon (shiso-infused gin, burnt cinnamon, lemon).
Tuesday
4:00 PM - 11:00 PM
Wednesday
4:00 PM - 11:00 PM
Thursday
4:00 PM - 12:00 AM
Saturday
4:00 PM - 1:00 AM
In need of a stiff drink that will transport you across the globe with a single sip? Make that dream a reality with Banyan Bar, a South End staple for colorful cocktails and flavorful fusion cuisine. Although Asian-inspired favorites like crab rangoon dip, cauliflower okonomiyaki, and lobster roll bao all grace the menu, the star attraction here is the cocktail list, offering heavy hitters like the fiery Thai chili vodka-forward Supreme Leader and the Pink Flamingo, a classic blend of sake, vodka, orange curaçao, and fruit juices.
Tuesday
4:00 PM - 11:00 PM
Wednesday
4:00 PM - 11:00 PM
Thursday
4:00 PM - 12:00 AM
Saturday
4:00 PM - 1:00 AM