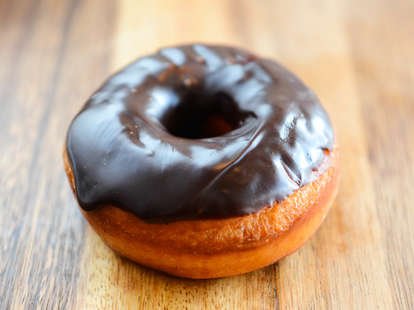 Chona Kasinger/Thrillist
Chona Kasinger/Thrillist
Dat Donut is open 24hrs, so you can have their delicious doughy treats for breakfast, lunch, and dinner. You shouldn't, but it's possible. Also possible -- getting down on a giant doughnut that's roughly the size of your head for about $3.
Wednesday
4:00 AM - 4:00 AM
Thursday
4:00 AM - 4:00 AM
Saturday
4:00 AM - 4:00 AM
Founded by South Side Donut King Buritt "Mr. B" Bulloch back in 1972, this endearingly no-frills outpost doesn't mess around when it comes to fresh pastries. Bismarcks bursting with tangy strawberry preserves beneath a snowfall of powdered sugar, yeast-raised caramel donuts as fluffy as afternoon clouds, Devil's Food cake engulfed in a thick ocean of chocolate icing, apple fritters the size of a small spaceship—that right there is a recipe for eternal success.
How to order: Stop by for counter service.
Wednesday
4:00 AM - 4:00 AM
Thursday
4:00 AM - 4:00 AM
Saturday
4:00 AM - 4:00 AM