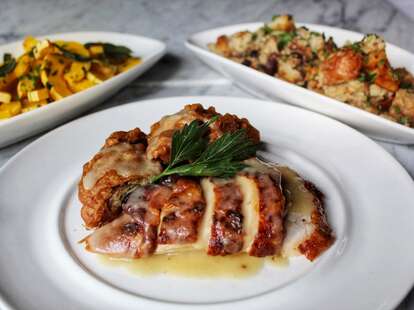 When a super-team decides to go Italian, the first step is always to make sure Ed Norton doesn't get upset his character's name is just "Steve" and mail it in. Bill & Giuliana Rancic clearly got that out of the way right after joining forces with both the Melmans and a French Laundry vet on their newest, boot-based venture: 8000 seriously swanky square feet of dark blacks & startling whites played out over mohair booths, glowing partitions, and oversized dome lights.
Wednesday
4:00 PM - 9:00 PM
Thursday
4:00 PM - 9:00 PM
Friday
12:00 PM - 10:00 PM
Saturday
12:00 PM - 10:00 PM
This iconic Lettuce Entertain You venue is cranking out Turkey Day specials bursting with signature Italian twists. Lineups run the gamut from Slagel Farms Turkey, Fall Harvest Salad, and Garlic Whipped Potatoes to Cacio e Pepe, Butternut Squash Agnolotti, and a tempting Pumpkin Cheesecake. Complete the course with a golden-crusted Pecan Pie, or if you're feeling particularly luxurious, a gigantic tower of raw seafood delights.
Cost: Packages start at $62.50 per person (serves 2 - 4)
How to book: Order pick-up via Tock.
Wednesday
4:00 PM - 9:00 PM
Thursday
4:00 PM - 9:00 PM
Friday
12:00 PM - 10:00 PM
Saturday
12:00 PM - 10:00 PM