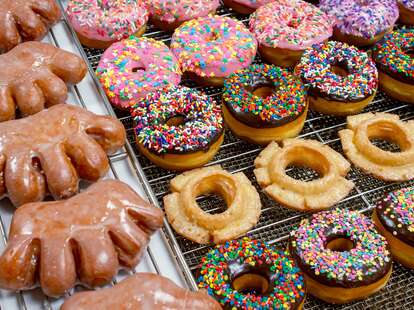 When you are hankerin' for something sweet, isn't it best to go to a place where that's the name? The answer is yes, because these guys sling cheap and delicious 'nuts that are baked fresh every day.
Tuesday
6:00 AM - 10:00 PM
Wednesday
6:00 AM - 10:00 PM
Thursday
6:00 AM - 10:00 PM
Saturday
6:00 AM - 11:00 PM
This year marks a decade since this family-owned establishment has been churning out California-style donuts. Their mission? To make your day a little sweeter, and they've definitely hit the mark. Party-planners will be happy to know that Somethin' Sweet is ready to make their donut dreams come true, no matter how outlandish—think donuts wearing stately crowns or shaped like martinis. In addition to excelling at all things fried dough, the shop also whips up some darn good coffee, fruit smoothies, and boba teas.
How to order: Stop by for counter service, order takeout online, or get delivery via Uber Eats.
Tuesday
6:00 AM - 10:00 PM
Wednesday
6:00 AM - 10:00 PM
Thursday
6:00 AM - 10:00 PM
Saturday
6:00 AM - 11:00 PM