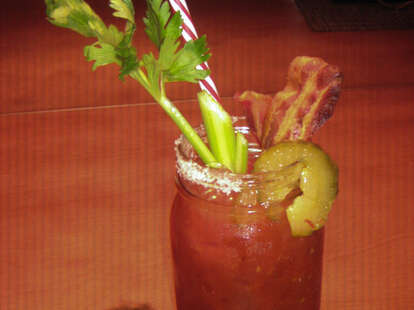 To celebrate what would've been Dr. Seuss's 109th birthday Saturday, Asador's doing a one-off brunch that includes on-theme-ness like free-range Green Eggs & Ham Benedict (w/ avo-hollandaise), Roast Beast (brisket) with Who-Hash Browns, Whoville Rainbow Waffles (yes, they're multicolored), and 1 Fish, 2 Fish, Texas Redfish Tacos.
Wednesday
6:00 AM - 1:00 AM
Thursday
6:00 AM - 1:00 AM
Saturday
7:00 PM - 1:00 AM
"Buffet." On this Day of Gluttony, could there be a more appealing word than this all-you-can-eat combination of consonants and vowels? Herb-roasted turkey, jalapeño-sausage cornbread dressing, pumpkin soup, brisket mac 'n' cheese, and pumpkin cheesecake are among the many calorie-laden items waiting to put your waistband to the test.
Cost: $65 per adult; other items priced a la carte.
Wednesday
6:00 AM - 1:00 AM
Thursday
6:00 AM - 1:00 AM
Saturday
7:00 PM - 1:00 AM